According to Bloomberg's calculations, electric cars sales will reach 10 million units by 2025 and surpass fossil fueled cars by 2040 with 57 million units. A lot of carmakers across the world are accompanying Tesla on this path. So what are they doing in these highly competitive SUV and crossover segments? Here are the top 8 LONGEST RANGE Electric SUVs and Crossover 2020-2021 which we think is the best:
Armed with an ambition to 2025 that pure electric vehicles will account for 50% of total global sales Volvo has launched its first vehicle the XC 40 recharge the XC 40 recharge comes up with a hallmark design of the Volvo almost identical to the internal combustion engine version.
It is compact elaborate and powerful; the only difference lies in the fully, covered grille which may become a trend in the future. The vehicle has a total capacity of 402 horsepower due to two electric motors mounted on the two front rear axles forming a four-wheel drive system support.
Charging the battery to 80 percent quickly in 40 minutes and cover a travel range of 200 miles per full charge, the XC 40 is a very safe and reliable vehicle with an aluminum chassis that protects the battery system while lowering the center of the vehicle so that the car gets more steady you are on the wheel.
This vehicle is a completely different design compared to other Nissan's fuel powered SUVs. It boasts a magnificent front a sharp design with a ultra-thin v-shaped LED, definitive air intake vents and embossed vanes that gently run through the hood and the car body.
Nissan developed an entirely new chasis called C4ORCE for its electric vehicles only. The large sized battery enhances its anti tipping ability two electric motors on two axles combined with an active balance control system. Regenerative braking combines with an intelligent adjustment system offers a travel range of up 300 miles when fully charged.
The interior design is extremely luxury minimalist; all operations are comfortably performed on the touchscreen that supports Nissan profile self-driving. The Ariya promises to be a perfect SUV of the future reducing vehicle exhaust emissions and traffic accidents through electrification, smooth yet powerful AI based operation.
The platform MEB designates a series of standards and technology and design that Volkswagen strikes to impose on millions of its electric vehicles in the future and the Vision IV is Skoda's first home made electric crossover built on that platform. The Vision IV demonstrates a vigorous design and a sports car style with its wavy ceiling embossed veins running along the body and fierce front the doors operate automatically making the body more seamless.
The rear view mirrors are also replaced by 280 degree wide angle cameras. Also thanks to rear suicide doors the cabin decorated with eco-friendly and luxury materials looks much more elegant and spacious. The suede matte dashboard is covered with plant-based microfiber of high quality, seat cushions made from recycled polyester fibers, car mats made from biodegradable wool fibers.
Its liquid cooled lithium-ion battery employs quick charging to reach 80 percent of its capacity in just 30 minutes. The Vision IV distributes a total power output of 225 kilowatts and a travel range of up to 310 miles per charge and is equipped with laser and radar scanners to handle autonomous driving and self parking
The Polestar 2 is truly a blend between the sloping roof of the sedan and the height and the generous chasis space of a crossover and that is why we call it SUV sedan. This car proudly boasts an elaborate and luxury design and is extremely fascinating when looked at from the rear, owing to the light string that runs along the body and fits well with the definitive slender cut lines.
Its real power comes from two electric motors attached to the two front rear axles and a four-wheel drive system the power supply is a 78 kilowatt-hour lithium-ion battery and a travel range of up to 310 miles per charge. There is a wide range of equipment for such a high-performance car such as Brembo brakes, dual flow valve dampers, 20-inch forged alloy wheels, adaptive cruise control and pilot assistance.
The interior is a harmonious combination of wood fabric and plastic materials exuding an air of elegance besides heated wheels and seats and a high-end Harman Kardon audio system.
The Ford Mustang is a legend and has always been known as a high-performance sports car. It is even more special when Ford uses this name to label its electric SUV Ford Mustang Mach II. The front end is still Mustangs iconic muscular design. It features a reclined windshield, a coupe like curved roof and bulging rear fender flares resulting in a bold strong and different design compared to other electric SUVs.
The Mach II has 5 options with the largest battery capacity of 98.8 kilowatt hours and a travel range of over 300 miles when fully charged. It supports fast charging from 10 to 80 percent in just 35 minutes. The Mach II GT sports version has a considerable capacity of 459 horsepower.
The interior is somewhat explorer like but its more advanced and more modern the dashboard is exquisite with vertical aluminum contours, Mustang like steering wheel and black onyx electric heated seats. The carmaker also provides other options such as the Bang & Olufsen sound system panorama sunroof and interior lights.
Are you the sort of simple man who loves the classic beauty of the Land Rover Defender or Mercedes AMG G63 and still wants to be an environmental champion? You shouldn't look further than the Bollinger B1. With a masculine and edgy design language that somewhat goes to extremes, the Bollinger B1 is ready to satisfy all your needs. No doubt its strength and appearance match perfectly
It is powered by a 614 horsepower engine with an excellent towing capacity of 7,500 pounds that comes from a 120 kilowatt hour battery, two electric motors and a four-wheel system. The B1 provides a travel range of over 200 miles for a full charge.  It supports fastcharging the battery to 100% in just 75 minutes.
The interior is a little bit reminiscent of classic styles such as using many adjustment knobs and no touch screens and it is specifically designed for long journeys when the second foldable row makes more room for cargo. Notably, the windshield and sunroof can be detachable bringing a sense of harmony with nature.
The Audi Q4 E-Tron is the first electric crossover built on Volkswagens modular platform MEB. Is geared for the affordable luxury segment without giving up valuable features still loyal to Audi's traditional design language. The Q4 E-Tron has a softer more youthful look that reflects the trend of electric cars in the near future.
Most remarkable is the interior where the latest quintessence of the automaker is shown. The refined luxury cabin gives a feeling of comfort and spaciousness. What's more there are leatherette massage chairs, sports headrest, control screen geared towards the driver that enables connectivity and operation via a smartphone.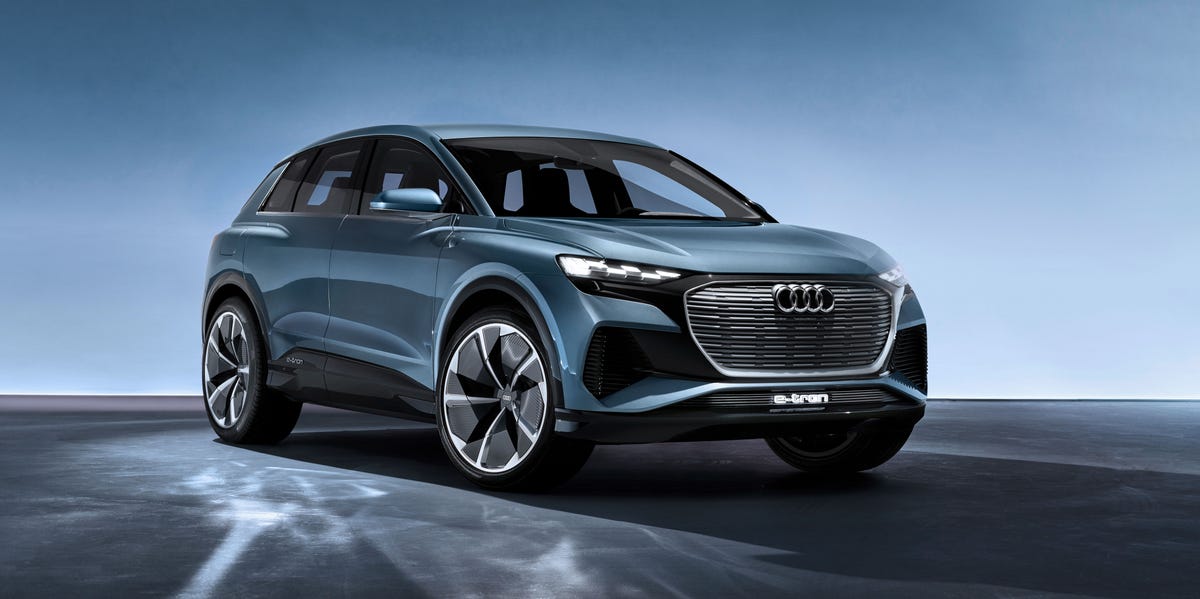 It is also equipped with an 82 kilowatt hour battery that allows 280 miles of travel range and supports quick charging from 0 to 80 percent in just 30 minutes at a competitive price of only 44.000 dollars. Along with its long-standing brand value, the Q4 E-Tron will be a serious rival in this segment.
The Rivian R1S ejected with a huge investment of 700 million dollars from Amazon, 500 million dollars from Ford as well as luring talented engineers from Jeep, Ford, GM and McLaren. The Rivian, an electric car startup, is ready to dethrone Tesla. The Rivian R1S is rare full-sized pure electric SUV with a 180 kilowatt hour battery. It becomes the vehicle with the longest lasting battery ever offering an impressive travel range of 410 miles, with a maximum capacity of up to 750 horsepower.
It is powered by a four-wheel drive system one electric motor on each wheel and the R1S has a towing capacity of over 7700 pounds on par with the Cadillac Escalade 7,900 pounds. The interior is modern spacious and luxurious. It features three rows of fancy leather seats, a wooden dashboard and minimalist buttons on two large touchscreens.  The air suspension that can lift the ground clearance from 8 to 14.5 inches, showing the full potential of a strong off-road SUV.